Siena travel guide with information on hotels, restaurants and much more
Siena is the capital of the Italian province of Siena, in the region of Tuscany.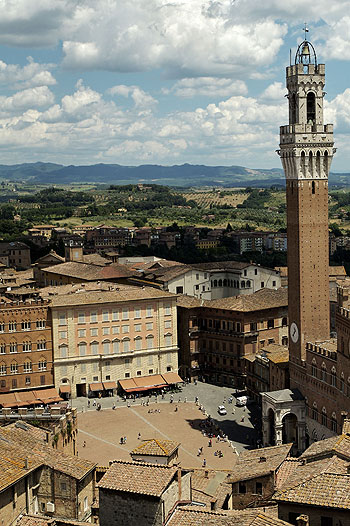 At approximately 70 kilometers away from Florence, the city stretches between the valleys of Arbia, Merse and Elsa Rivers; Siena is surrounded by the Chianti Hills to the North-East, Montagnola to the West and Crete Senesi Hills to the South-East.
The legend says the city was founded by Senio and Ascanio (the sons of Remus, on of the founder of Rome), and thats why tourists can often encounter copy statues of the "she wolf" of Romulus and Remus Roman Capitoline. The archeological remainings show that Siena has developed by the Etruscans, and since the first century A.D. it has been a Roman Colony, with the name Saena Etruriae or Sena Julia.
Siena is recognised as one of the most beautiful cities in Tuscany, thus its historical and cultural heritage is on the UNESCO List. The city preserves its medieval look and atmosphere, since hundreds of years. One can touch the medieval atmosphere by walking on the narrow and tangled streets of Siena. 
The old city center holds the most famous and most beautiful touristic attractions.
Piazza del Campo is an extensive open space in the shape of a sea shell, surrounded by majestuous old buildings like Palazzo Publico (Public Palace) and Torre del Mangia (Tower of Mangia); you can relax sitting at a table of the numerous cafes and terraces from the market square, and afterwords you can discover the Dome of Siena, Pinacoteca Nazionale, Santa Maria della Scala Museum Complex, and the many churches and basilicas marked by a Gothic architecture: San Domenico, Basilica Santa Maria dei Servi, Basilica San Francesco.
Our travel guide presents the most beautiful and worth to be visited places and attractions in Siena. You will find accommodation information, restaurants, interactive maps of the city and its districts as well as a very comprehensive photo gallery.